Welcome to the Winstead Inn & Beach Resort's Cape Cod beach cam page! We love taking in the view of one the most picturesque Harwich beaches from our beach inn on Cape Cod, so we thought we'd share it with the world.
Spend your Cape Cod vacation in Harwich
Planning a Cape Cod vacation and not sure where on the Cape you'd like to stay? Whether you'll be visiting for a just a couple of days or spending a week, the Town of Harwich is the perfect place to enjoy all that the Cape has to offer.
With a two- or three-night visit, chances are you're looking for that ever-elusive balance of action and downtime. When you choose Harwich as your home-away-from-home, you've found it.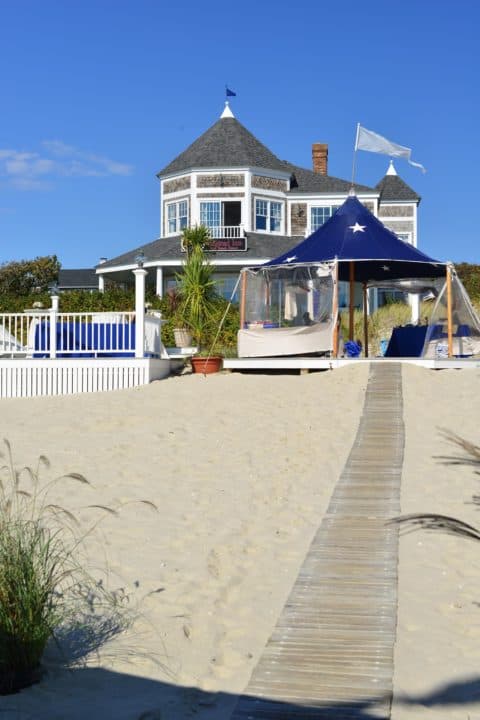 Cape Cod Hotel with Private Beach
Spend the day ensconced in a chaise lounge at our private beach, or rent a bike and take to the Cape Cod Rail Trail. Peruse the shops on Main Street in Harwich Port and enjoy a leisurely lunch. Hop in the car and check out Chatham, home of a working lighthouse and busy harbor, less than seven miles east of our Harwich hotels. Just a few miles north is Brewster, where you'll find stately sea captains' homes, galleries and a gristmill. Cape Cod National Seashore, 44,000 acres of pristine beaches and hiking and biking trails, is also within an easy drive.
Our Harwich Hotels are Centrally Located
Situated mid-way between the Sagamore Bridge and Provincetown, Harwich is also a great option for a lengthier visit. Because of its location, exploring the Cape and Islands is easily done. Spend a day in Provincetown – less than an hour from our Harwich inns – reveling in the fun vibe of the famed artists' colony on the eastern tip of the Cape. Provincetown is also home to one of the largest whale watching fleets in the world. The sight of humpback and minke whales frolicking in the ocean is a must-see.
In the opposite direction, west of our Harwich hotels, is Sandwich, the oldest village on the Cape. The streets just outside the village are lined with historic homes, and the downtown area is filled with restaurants, shops and galleries.
With ferry service to Nantucket within a mile of our Cape Cod hotels, a daytrip to the Grey Lady is another fun option. Hop on Freedom Cruise Line's comfortable vessel mid-morning, and you'll be on the island in an hour.
It all sounds great, doesn't it? We'll see you soon.