One of the most unique aspects of spending your Cape Cod vacation at our hotels in Harwich, MA is that are so many great things to do within walking distance. From dining and shopping to relaxing on the beach and exploring the great outdoors, it's all right here.
Harwich Port
The village of Harwich Port, just a five-minute walk from the Beach Resort, our Harwich hotel on the beach, is a classic New England seaside town, with a Main Street lined with independently owned shops and galleries and a variety of restaurants certain to please any palate.
If you love to collect things for the home to bring back from your travels, plan on prowling the narrow aisles at Sativa, a shop that sells home décor items, gifts and jewelry, and exquisite natural bath products. The Grey House, with contemporary objects for the home, is another great option. From trinkets to souvenirs to must-haves for the home, Murphy's General Store has a cornucopia of fun things. For handcrafted goods, head to Reciprocity, and for local artwork, WH Lutz Art Studio & Gallery is a must. Fashionistas will find much to love at The Haberdash, a new boutique with a boho-chic vibe. Buoys on Main is all about laidback resort wear, and Cape Cod PrepstR carries a great line of original tees, hoodies and polos. Looking for a good beach read? Head to Reed Books right on Main Street.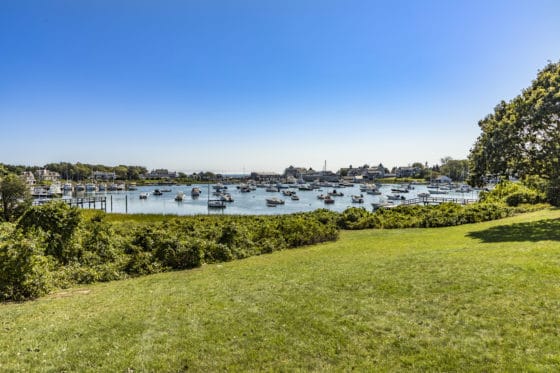 For outdoor explorations, the Robert F. Smith Cold Brook Preserve on Bank Street is a great walk around an abandoned cranberry bog. A few blocks off of Bank Street, on Main Street, is a small park overlooking Wychmere Harbor, one of the most photographed harbors on the Cape. Looking for a quick round of golf? You can even find that within walking distance of our Cape Cod beach resort. The Harwich Port Golf Club, a nine-hole layout open to the public, is less than a mile away.
With so many restaurants in Harwich Port, you'll find enough options to try something different every day. For a casual lunch, the Hot Stove Saloon, filled with sports memorabilia and local color, will hit the spot. For après-beach cocktails, the outdoor tiki bar at Ember is a cool scene, as are the bars – one inside, one out – at The Port. The Port is also a lovely spot for dinner, not too casual and not too formal. On the more casual end of the spectrum is the Mad Minnow, and for date-night special, Cape Sea Grille is a great choice. With a wide range of artisanal coffees and teas, an even wider selection of locally brewed craft beers, and a curated menu of local delicacies, Perks is a perfect all-day option.
Harwich Center
Although Harwich Center is just a mile and a half from Harwich Port, the difference between the two villages is striking. Where Harwich Port offers a plethora of dining and shopping choices, Harwich Center has a more rural feel, with a couple of casual eateries, two markets – one with snacks, sundries and a delicatessen and one with wine, beer and spirits – and miles of wide-open space.
The Cape Cod Rail Trail is one of the best things to do on Cape Cod, and it's just a block from our inn in Harwich, MA. Whether walking or biking, it is an absolute pleasure to explore. Should you need to rent bikes, Adventure Chatham, on the Harwich/Chatham town line, is at the ready. In the opposite direction is Dennis Cycle. When you hop on the trail on Oak Street, head west and you'll meander past working cranberry bogs, marshes, ponds and woodlands. Head southeast, on the newer Harwich/Chatham spur, and you'll end up in up charming Chatham.
No bike? No problem. The Cape Cod Rail Trail welcomes pedestrians. If you're on foot, you also have the option of getting off the bikeway and checking out the foot trails adjacent to it. The Hacker Wildlife Sanctuary is a fave.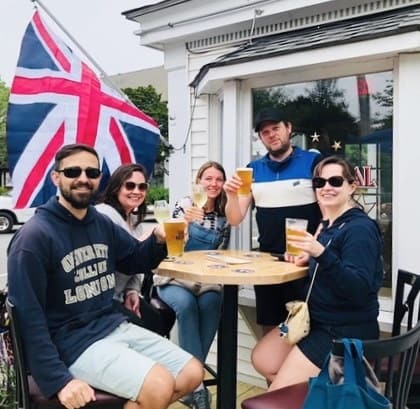 All of this biking and hiking is certain to work up an appetite. Sliders, salads and local brews can be found at The Seal Pub & Café.
Love wine? First Crush Winery is a mile from the Winstead Inn, and they offer tastings on a regular basis. Their cabernet is a lush, full-bodied red that has won awards and a devoted following.
If you're visiting in the summer months, consider taking in a Harwich Mariners game at Whitehouse Field. The Mariners are Harwich's Cape Cod Baseball League team. The Cape Cod Baseball League is the premier college baseball league in the country. In any given World Series, it is estimated that one in seven players on the field came up through the Cape League. The action is mesmerizing, and the scene – kids and dogs running around, hot dogs and popcorn – is pure Americana.
Food, fun, shopping and beaching: everything you need for a memorable vacation is at your fingertips.